A large index ~500MB keeps crashing randomly. Once a day usually
Using the indextool shows 'rowitems count mismatch' with a bunch of unexpected block indexes
The index is called listings and we have a listings_delta that gets merged into the main index daily
It seems that the crash occurs after the merging of the indexes but it is not immediate
We reindex the delta anytime a change is made, this can happen many times in a short period of time
We also reindex all deltas once every 30 minutes
I'm at a loss at how to further debug this. Upgraded to the latest version, running on Debian 11.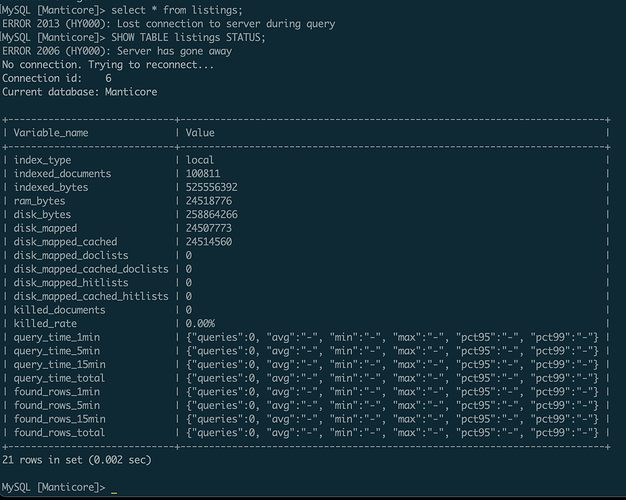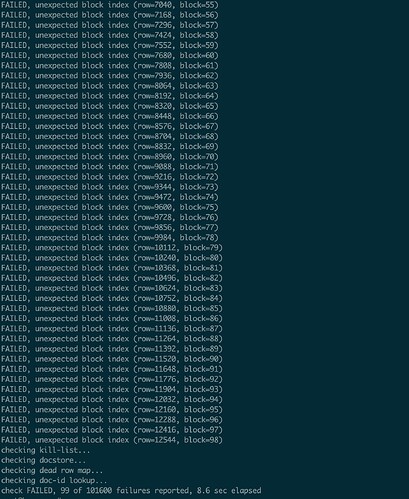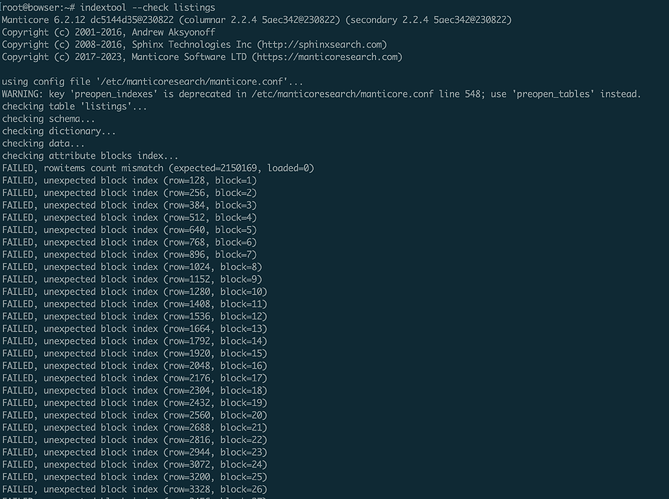 [Mon Sep 25 05:12:20.335 2023] [339947] rotating table 'heavy_invoice_records': success
[Mon Sep 25 05:12:20.335 2023] [339947] rotating table: all tables done
[Mon Sep 25 05:12:20.398 2023] [339944] caught SIGHUP (seamless=1, in_rotate=0, need_rotate=0)
[Mon Sep 25 05:12:20.425 2023] [339947] rotating table 'heavy_invoice_records': started
[Mon Sep 25 05:12:20.426 2023] [339947] RW-idx for rename to .old, acquiring...
[Mon Sep 25 05:12:20.426 2023] [339947] RW-idx for rename to .old, acquired...
[Mon Sep 25 05:12:20.427 2023] [339947] rotating table 'heavy_invoice_records': success
[Mon Sep 25 05:12:20.427 2023] [339947] rotating table: all tables done
------- FATAL: CRASH DUMP -------
[Mon Sep 25 05:12:28.435 2023] [339944]

--- crashed SphinxAPI request dump ---
AAABGQAAAeYAAAAAAAAAAQAAAAAAD0I/AAAABgAAAAgAAABEc3VtKChtb2RpZmllZF90cy84NjQwMC0xOTYyNS4y
MTY5OTA3NDEpKyh1c2VyX3dlaWdodCooMStleGFjdF9oaXQpKSkAAAAEAAAAJ2ZpbHRlcl9saXN0aW5n
X2lkIERFU0MsIEByZWxldmFuY2UgREVTQwAAAAsqcGV0ZXJiaWx0KgAAAAAAAAAXbGlzdGluZ3MgbGlz
dGluZ3NfZGVsdGEAAAABAAAAAAAAAAAAAAAAAAAAAAAAAAIAAAAWZmlsdGVyX2xpc3RpbmdfdHlwZV9p
ZAAAAAAAAAABAAAAAAAAAAEAAAAAAAAAGGZpbHRlcl9saXN0aW5nX3N0YXR1c19pZAAAAAAAAAAB
AAAAAAAAAAMAAAAAAAAAAAAAAAAAD0I/AAAAC0Bncm91cCBkZXNjAAAAAAAAAAAAAAAAAAAAAAAAAAAA
AAAAAAAAAAAAAAYAAAAKbGlzdGluZ19pZAAAAAoAAAAQcmVsYXRlZF9saXN0aW5ncwAAAAoAAAAFdGl0
bGUAAAAFAAAAA3ZpbgAAAAMAAAAMaW5zdXJlcl9pbmZvAAAABQAAAA1hZGp1c3Rlcl9pbmZvAAAABAAA
AAAAAAAAAAAAASo=
--- request dump end ---
--- local index:
Manticore 6.2.12 dc5144d35@230822 (columnar 2.2.4 5aec342@230822) (secondary 2.2.4 5aec342@230822)
Handling signal 11
-------------- backtrace begins here ---------------
Program compiled with Clang 15.0.7
Configured with flags: Configured with these definitions: -DDISTR_BUILD=bullseye -DUSE_SYSLOG=1 -DWITH_GALERA=1 -DWITH_RE2=1 -DWITH_RE2_FORCE_STATIC=1 -DWITH_STEMMER=1 -DWITH_STEMMER_FORCE_STATIC=1 -DWITH_NLJSON=1 -DWITH_UNIALGO=1 -DWITH_ICU=1 -DWITH_ICU_FORCE_STATIC=1 -DWITH_SSL=1 -DWITH_ZLIB=1 -DWITH_ZSTD=1 -DDL_ZSTD=1 -DZSTD_LIB=libzstd.so.1 -DWITH_CURL=1 -DDL_CURL=1 -DCURL_LIB=libcurl.so.4 -DWITH_ODBC=1 -DDL_ODBC=1 -DODBC_LIB=libodbc.so.2 -DWITH_EXPAT=1 -DDL_EXPAT=1 -DEXPAT_LIB=libexpat.so.1 -DWITH_ICONV=1 -DWITH_MYSQL=1 -DDL_MYSQL=1 -DMYSQL_LIB=libmariadb.so.3 -DWITH_POSTGRESQL=1 -DDL_POSTGRESQL=1 -DPOSTGRESQL_LIB=libpq.so.5 -DLOCALDATADIR=/var/lib/manticore -DFULL_SHARE_DIR=/usr/share/manticore
Built on Linux x86_64 (bullseye) (cross-compiled)
Stack bottom = 0x7fb0b80292f0, thread stack size = 0x20000
Trying manual backtrace:
Something wrong with thread stack, manual backtrace may be incorrect (fp=0x1)
Wrong stack limit or frame pointer, manual backtrace failed (fp=0x1, stack=0x7fb0b8030000, stacksize=0x20000)
Trying system backtrace:
begin of system symbols:
/usr/bin/searchd(_Z12sphBacktraceib+0x22a)[0x559faadfdcfa]
/usr/bin/searchd(_ZN11CrashLogger11HandleCrashEi+0x355)[0x559faac7cce5]
/lib/x86_64-linux-gnu/libpthread.so.0(+0x13140)[0x7fb0d6451140]
/usr/bin/searchd(_ZNK10Docstore_c6GetDocEjPK11VecTraits_TIiElb+0x97)[0x559fabadb127]
/usr/bin/searchd(_ZNK13CSphIndex_VLN6GetDocER13DocstoreDoc_tlPK11VecTraits_TIiElb+0x73)[0x559faad31853]
/usr/bin/searchd(_ZNK16Expr_GetStored_TILb1EE13GetBlobPackedERK9CSphMatch+0x54)[0x559fabae3654]
/usr/bin/searchd(+0xeb914c)[0x559faacdc14c]
/usr/bin/searchd(_Z18MinimizeAggrResultR12AggrResult_tRK9CSphQuerybRKN3sph9StringSetEP14QueryProfile_cPK18CSphFilterSettingsbb+0x650b)[0x559faac9027b]
/usr/bin/searchd(_ZN15SearchHandler_c9RunSubsetEii+0x1324)[0x559faac95164]
/usr/bin/searchd(_ZN15SearchHandler_c10RunQueriesEv+0xd4)[0x559faac91064]
/usr/bin/searchd(_Z19HandleCommandSearchR16ISphOutputBuffertR13InputBuffer_c+0x333)[0x559faac9bd63]
/usr/bin/searchd(_Z8ApiServeSt10unique_ptrI16AsyncNetBuffer_cSt14default_deleteIS0_EE+0x7b1)[0x559faac0a5c1]
/usr/bin/searchd(_Z10MultiServeSt10unique_ptrI16AsyncNetBuffer_cSt14default_deleteIS0_EESt4pairIitE7Proto_e+0x12e)[0x559faac085ee]
/usr/bin/searchd(+0xde60b2)[0x559faac090b2]
/usr/bin/searchd(_ZZN7Threads11CoRoutine_c13CreateContextESt8functionIFvvEESt4pairIN5boost7context13stack_contextENS_14StackFlavour_EEEENUlNS6_6detail10transfer_tEE_8__invokeESB_+0x1c)[0x559fabf4b62c]
/usr/bin/searchd(make_fcontext+0x2f)[0x559fabf6b9cf]
Trying boost backtrace:
 0# sphBacktrace(int, bool) in /usr/bin/searchd
 1# CrashLogger::HandleCrash(int) in /usr/bin/searchd
 2# 0x00007FB0D6451140 in /lib/x86_64-linux-gnu/libpthread.so.0
 3# Docstore_c::GetDoc(unsigned int, VecTraits_T<int> const*, long, bool) const in /usr/bin/searchd
 4# CSphIndex_VLN::GetDoc(DocstoreDoc_t&, long, VecTraits_T<int> const*, long, bool) const in /usr/bin/searchd
 5# Expr_GetStored_T<true>::GetBlobPacked(CSphMatch const&) const in /usr/bin/searchd
 6# 0x0000559FAACDC14C in /usr/bin/searchd
 7# MinimizeAggrResult(AggrResult_t&, CSphQuery const&, bool, sph::StringSet const&, QueryProfile_c*, CSphFilterSettings const*, bool, bool) in /usr/bin/searchd
 8# SearchHandler_c::RunSubset(int, int) in /usr/bin/searchd
 9# SearchHandler_c::RunQueries() in /usr/bin/searchd
10# HandleCommandSearch(ISphOutputBuffer&, unsigned short, InputBuffer_c&) in /usr/bin/searchd
11# ApiServe(std::unique_ptr<AsyncNetBuffer_c, std::default_delete<AsyncNetBuffer_c> >) in /usr/bin/searchd
12# MultiServe(std::unique_ptr<AsyncNetBuffer_c, std::default_delete<AsyncNetBuffer_c> >, std::pair<int, unsigned short>, Proto_e) in /usr/bin/searchd
13# 0x0000559FAAC090B2 in /usr/bin/searchd
14# Threads::CoRoutine_c::CreateContext(std::function<void ()>, std::pair<boost::context::stack_context, Threads::StackFlavour_E>)::{lambda(boost::context::detail::transfer_t)#1}::__invoke(boost::context::detail::transfer_t) in /usr/bin/searchd
15# make_fcontext in /usr/bin/searchd

-------------- backtrace ends here ---------------
Please, create a bug report in our bug tracker (https://github.com/manticoresoftware/manticore/issues)
and attach there:
a) searchd log, b) searchd binary, c) searchd symbols.
Look into the chapter 'Reporting bugs' in the manual
(https://manual.manticoresearch.com/Reporting_bugs)
Dump with GDB via watchdog
--- active threads ---
thd 0 (work_0), proto sphinx, state query, command search
--- Totally 2 threads, and 1 client-working threads ---
------- CRASH DUMP END -------
[Mon Sep 25 05:12:31.497 2023] [3329436] watchdog: main process 339944 crashed via CRASH_EXIT (exit code 2), will be restarted
[Mon Sep 25 05:12:31.497 2023] [3329436] watchdog: main process 359552 forked ok
[Mon Sep 25 05:12:31.523 2023] [359552] Reloading the config (38828 chars)
[Mon Sep 25 05:12:31.524 2023] [359552] Reconfigure the daemon
[Mon Sep 25 05:12:31.525 2023] [359552] starting daemon version '6.2.12 dc5144d35@230822 (columnar 2.2.4 5aec342@230822) (secondary 2.2.4 5aec342@230822)' ...
[Mon Sep 25 05:12:31.525 2023] [359552] listening on all interfaces for sphinx and http(s), port=9312
[Mon Sep 25 05:12:31.525 2023] [359552] listening on all interfaces for mysql, port=9306
[Mon Sep 25 05:12:31.604 2023] [359557] prereading 13 tables
[Mon Sep 25 05:12:31.608 2023] [359557] preread 13 tables in 0.005 sec
[Mon Sep 25 05:12:31.610 2023] [359552] accepting connections
[Mon Sep 25 05:12:31.653 2023] [359556] [BUDDY] started v1.0.18 '/usr/share/manticore/modules/manticore-buddy/bin/manticore-buddy --listen=http://0.0.0.0:9312  --threads=4' at http://127.0.0.1:34867
[Mon Sep 25 05:12:31.681 2023] [359557] [BUDDY] Loaded plugins:
[Mon Sep 25 05:12:31.681 2023] [359557] [BUDDY]   core: empty-string, backup, emulate-elastic, insert, select, show, cli-table, plugin, test, insert-mva
[Mon Sep 25 05:12:31.681 2023] [359557] [BUDDY]   local: 
[Mon Sep 25 05:12:31.681 2023] [359557] [BUDDY]   extra: 
------- FATAL: CRASH DUMP -------
[Mon Sep 25 05:12:34.614 2023] [359552]

--- crashed SphinxAPI request dump ---
AAABGQAAAeYAAAAAAAAAAQAAAAAAD0I/AAAABgAAAAgAAABEc3VtKChtb2RpZmllZF90cy84NjQwMC0xOTYyNS4y
MTcwNjAxODUpKyh1c2VyX3dlaWdodCooMStleGFjdF9oaXQpKSkAAAAEAAAAJ2ZpbHRlcl9saXN0aW5n
X2lkIERFU0MsIEByZWxldmFuY2UgREVTQwAAAAsqcGV0ZXJiaWx0KgAAAAAAAAAXbGlzdGluZ3MgbGlz
dGluZ3NfZGVsdGEAAAABAAAAAAAAAAAAAAAAAAAAAAAAAAIAAAAWZmlsdGVyX2xpc3RpbmdfdHlwZV9p
ZAAAAAAAAAABAAAAAAAAAAEAAAAAAAAAGGZpbHRlcl9saXN0aW5nX3N0YXR1c19pZAAAAAAAAAAB
AAAAAAAAAAMAAAAAAAAAAAAAAAAAD0I/AAAAC0Bncm91cCBkZXNjAAAAAAAAAAAAAAAAAAAAAAAAAAAA
AAAAAAAAAAAAAAYAAAAKbGlzdGluZ19pZAAAAAoAAAAQcmVsYXRlZF9saXN0aW5ncwAAAAoAAAAFdGl0
bGUAAAAFAAAAA3ZpbgAAAAMAAAAMaW5zdXJlcl9pbmZvAAAABQAAAA1hZGp1c3Rlcl9pbmZvAAAABAAA
AAAAAAAAAAAAASo=
--- request dump end ---
--- local index:listings
Manticore 6.2.12 dc5144d35@230822 (columnar 2.2.4 5aec342@230822) (secondary 2.2.4 5aec342@230822)
Handling signal 11
-------------- backtrace begins here ---------------
Program compiled with Clang 15.0.7
Configured with flags: Configured with these definitions: -DDISTR_BUILD=bullseye -DUSE_SYSLOG=1 -DWITH_GALERA=1 -DWITH_RE2=1 -DWITH_RE2_FORCE_STATIC=1 -DWITH_STEMMER=1 -DWITH_STEMMER_FORCE_STATIC=1 -DWITH_NLJSON=1 -DWITH_UNIALGO=1 -DWITH_ICU=1 -DWITH_ICU_FORCE_STATIC=1 -DWITH_SSL=1 -DWITH_ZLIB=1 -DWITH_ZSTD=1 -DDL_ZSTD=1 -DZSTD_LIB=libzstd.so.1 -DWITH_CURL=1 -DDL_CURL=1 -DCURL_LIB=libcurl.so.4 -DWITH_ODBC=1 -DDL_ODBC=1 -DODBC_LIB=libodbc.so.2 -DWITH_EXPAT=1 -DDL_EXPAT=1 -DEXPAT_LIB=libexpat.so.1 -DWITH_ICONV=1 -DWITH_MYSQL=1 -DDL_MYSQL=1 -DMYSQL_LIB=libmariadb.so.3 -DWITH_POSTGRESQL=1 -DDL_POSTGRESQL=1 -DPOSTGRESQL_LIB=libpq.so.5 -DLOCALDATADIR=/var/lib/manticore -DFULL_SHARE_DIR=/usr/share/manticore
Built on Linux x86_64 (bullseye) (cross-compiled)
Stack bottom = 0x7fb0bc043f40, thread stack size = 0x20000
Trying manual backtrace:
Something wrong with thread stack, manual backtrace may be incorrect (fp=0x1)
Wrong stack limit or frame pointer, manual backtrace failed (fp=0x1, stack=0x7fb0bc040000, stacksize=0x20000)
Trying system backtrace:
begin of system symbols:
/usr/bin/searchd(_Z12sphBacktraceib+0x22a)[0x559faadfdcfa]
/usr/bin/searchd(_ZN11CrashLogger11HandleCrashEi+0x355)[0x559faac7cce5]
/lib/x86_64-linux-gnu/libpthread.so.0(+0x13140)[0x7fb0d6451140]
/usr/bin/searchd(_ZNK10Docstore_c6GetDocEjPK11VecTraits_TIiElb+0x97)[0x559fabadb127]
/usr/bin/searchd(_ZNK13CSphIndex_VLN6GetDocER13DocstoreDoc_tlPK11VecTraits_TIiElb+0x73)[0x559faad31853]
/usr/bin/searchd(_ZNK16Expr_GetStored_TILb1EE13GetBlobPackedERK9CSphMatch+0x54)[0x559fabae3654]
/usr/bin/searchd(+0xeb914c)[0x559faacdc14c]
/usr/bin/searchd(_Z18MinimizeAggrResultR12AggrResult_tRK9CSphQuerybRKN3sph9StringSetEP14QueryProfile_cPK18CSphFilterSettingsbb+0x650b)[0x559faac9027b]
/usr/bin/searchd(_ZN15SearchHandler_c9RunSubsetEii+0x1324)[0x559faac95164]
/usr/bin/searchd(_ZN15SearchHandler_c10RunQueriesEv+0xd4)[0x559faac91064]
/usr/bin/searchd(_Z19HandleCommandSearchR16ISphOutputBuffertR13InputBuffer_c+0x333)[0x559faac9bd63]
/usr/bin/searchd(_Z8ApiServeSt10unique_ptrI16AsyncNetBuffer_cSt14default_deleteIS0_EE+0x7b1)[0x559faac0a5c1]
/usr/bin/searchd(_Z10MultiServeSt10unique_ptrI16AsyncNetBuffer_cSt14default_deleteIS0_EESt4pairIitE7Proto_e+0x12e)[0x559faac085ee]
/usr/bin/searchd(+0xde60b2)[0x559faac090b2]
/usr/bin/searchd(_ZZN7Threads11CoRoutine_c13CreateContextESt8functionIFvvEESt4pairIN5boost7context13stack_contextENS_14StackFlavour_EEEENUlNS6_6detail10transfer_tEE_8__invokeESB_+0x1c)[0x559fabf4b62c]
/usr/bin/searchd(make_fcontext+0x2f)[0x559fabf6b9cf]
Trying boost backtrace:
 0# sphBacktrace(int, bool) in /usr/bin/searchd
 1# CrashLogger::HandleCrash(int) in /usr/bin/searchd
 2# 0x00007FB0D6451140 in /lib/x86_64-linux-gnu/libpthread.so.0
 3# Docstore_c::GetDoc(unsigned int, VecTraits_T<int> const*, long, bool) const in /usr/bin/searchd
 4# CSphIndex_VLN::GetDoc(DocstoreDoc_t&, long, VecTraits_T<int> const*, long, bool) const in /usr/bin/searchd
 5# Expr_GetStored_T<true>::GetBlobPacked(CSphMatch const&) const in /usr/bin/searchd
 6# 0x0000559FAACDC14C in /usr/bin/searchd
 7# MinimizeAggrResult(AggrResult_t&, CSphQuery const&, bool, sph::StringSet const&, QueryProfile_c*, CSphFilterSettings const*, bool, bool) in /usr/bin/searchd
 8# SearchHandler_c::RunSubset(int, int) in /usr/bin/searchd
 9# SearchHandler_c::RunQueries() in /usr/bin/searchd
10# HandleCommandSearch(ISphOutputBuffer&, unsigned short, InputBuffer_c&) in /usr/bin/searchd
11# ApiServe(std::unique_ptr<AsyncNetBuffer_c, std::default_delete<AsyncNetBuffer_c> >) in /usr/bin/searchd
12# MultiServe(std::unique_ptr<AsyncNetBuffer_c, std::default_delete<AsyncNetBuffer_c> >, std::pair<int, unsigned short>, Proto_e) in /usr/bin/searchd
13# 0x0000559FAAC090B2 in /usr/bin/searchd
14# Threads::CoRoutine_c::CreateContext(std::function<void ()>, std::pair<boost::context::stack_context, Threads::StackFlavour_E>)::{lambda(boost::context::detail::transfer_t)#1}::__invoke(boost::context::detail::transfer_t) in /usr/bin/searchd
15# make_fcontext in /usr/bin/searchd

-------------- backtrace ends here ---------------
Please, create a bug report in our bug tracker (https://github.com/manticoresoftware/manticore/issues)
and attach there:
a) searchd log, b) searchd binary, c) searchd symbols.
Look into the chapter 'Reporting bugs' in the manual
(https://manual.manticoresearch.com/Reporting_bugs)
Dump with GDB via watchdog
--- active threads ---
thd 0 (work_3), proto sphinx, state query, command search
--- Totally 2 threads, and 1 client-working threads ---
------- CRASH DUMP END -------
[Mon Sep 25 05:12:37.832 2023] [3329436] watchdog: main process 359552 crashed via CRASH_EXIT (exit code 2), will be restarted
[Mon Sep 25 05:12:37.832 2023] [3329436] watchdog: main process 359581 forked ok
[Mon Sep 25 05:12:37.861 2023] [359581] Reloading the config (38828 chars)
[Mon Sep 25 05:12:37.862 2023] [359581] Reconfigure the daemon
[Mon Sep 25 05:12:37.862 2023] [359581] starting daemon version '6.2.12 dc5144d35@230822 (columnar 2.2.4 5aec342@230822) (secondary 2.2.4 5aec342@230822)' ...
[Mon Sep 25 05:12:37.862 2023] [359581] listening on all interfaces for sphinx and http(s), port=9312
[Mon Sep 25 05:12:37.862 2023] [359581] listening on all interfaces for mysql, port=9306
[Mon Sep 25 05:12:37.927 2023] [359586] prereading 13 tables
[Mon Sep 25 05:12:37.931 2023] [359586] preread 13 tables in 0.004 sec
[Mon Sep 25 05:12:37.935 2023] [359581] accepting connections
[Mon Sep 25 05:12:37.963 2023] [359583] [BUDDY] started v1.0.18 '/usr/share/manticore/modules/manticore-buddy/bin/manticore-buddy --listen=http://0.0.0.0:9312  --threads=4' at http://127.0.0.1:46561
[Mon Sep 25 05:12:38.006 2023] [359584] [BUDDY] Loaded plugins:
[Mon Sep 25 05:12:38.006 2023] [359584] [BUDDY]   core: empty-string, backup, emulate-elastic, insert, select, show, cli-table, plugin, test, insert-mva
[Mon Sep 25 05:12:38.006 2023] [359584] [BUDDY]   local: 
[Mon Sep 25 05:12:38.006 2023] [359584] [BUDDY]   extra: 
------- FATAL: CRASH DUMP -------